Nothing gives your home feel more luxurious then a high quality tile floor. It just makes everything else more appealing. The rich colors and solid texture under your feet creates a sense of high quality and even grandeur. and unlike hardwood and carpet, a tile floor can last for decades without wearing out. However, a widespread misconception is that a tile floor is maintenance free. If you have never had your floor cleaned (other than with a mop), I challenge you to look down at your floor right now. Compare the main traffic area to the tile in say, your food pantry. Compare your grout lines to those along the edges next to the walls. Chances are, it does not look nearly as beautiful as it did when it was new. Is it time you had your tile floor and grout cleaned in Boulder, CO? If the tile is darker than it should be, if you cannot easily clean out the shading in the uneven areas of texture or if the grout lines look grungy, we suggest you try professional tile and grout cleaning with steam.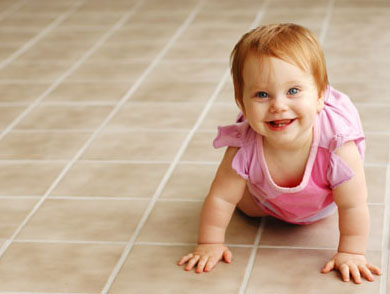 The good news is that professional cleaning can restore your tile and grout to like new condition. Our professional steam cleaning system blasts your floor with 250 degree, pure soft water, under high pressure. Stubborn dirt and stains don't stand a chance against this powerful cleaning process. This fully enclosed system then simply vacuums the grungy mess to our truck outside. It's like power washing your tile floors and grout without the mess! Whether it's stone, ceramic or porcelain tile, you'll be amazed at your resulting beautiful floors and sleek, clean grout lines.
Is it time you had your tile floor and grout cleaned in Boulder, CO.? If so, give us a call at Cleancare of Boulder. Ph.: 303-530-0646.