We'll Bring Back the Warmth and Luxury of Your Natural Stone or Tile Floors.
Cleaning Pricing:
Ceramic or Porcelain Tile and Grout: $.95/ sq foot, Natural Stone Tile and Grout: $1.30/ sq foot.
Soil and grunge cannot withstand the power of our incredible floor and grout cleaning process.
Watch How It Works Watch How It Cleans !
So... are your floors even close to that dirty? Think how great your's will look after cleaning!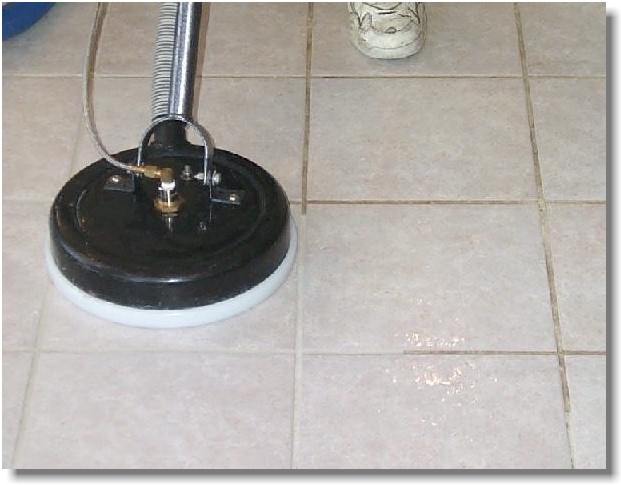 Why hurt your knees scrubbing with a toothbrush and dry out or harm your skin with harsh smelly chemicals when you can get
s
p
a
r
kling
clean tile and grout cleaning without the hassle?
You'll get the latest tile and grout cleaning system. My system will blast out the old soil in your tile and grout lines and extract it outside your home to our truck. When you see the dirt disappear right before your eyes- You will be amazed!
"So, What Will YOU Get If YOU Decide To Try Our Floor Cleaning?..."
You'll get the tile & grout cleaning you deserve.
You'll see a dramatic difference right before your eyes.
You'll see the original color of the grout lines.
You'll Be Amazed.
Just Look at these incredible results, below...
"What will happen if I do Nothing?"
-The grout lines will remain soiled
-The grout will never sparkle like it use too
-It will continue to look dull and... maybe even embarrassing?
--------------------------------------------------------------------------------------------------------------------------------------------------------------------------------------------------------------------
Why put up with that?
Call now. schedule your cleaning, then test drive it for yourself. You'll love your like-new floors so much you'll want to tell all your friends.
And I'll love that! :)
I promise you'll see a huge difference even if you don't think your tile is beyond help.
You'll be glad you did this.
AND... Don't Forget the Sealing!
Pricing: Grout (grout only) in Ceramic or Porcelain Tile: $.40/ sq foot, Natural Stone Tile and Grout (tile included): $1.45/ sq foot.
Your grout or natural stone (ceramic and porcelain do not need to be sealed) tiles may have a buildup of topical coatings or finishes. Many can be difficult to remove. I have seen many stone and tile installations where either the homeowner decided against sealer or the contractor dishonestly never applied any.
Stone, porous tile and grout should be treated with penetrating finishes rather than topical coatings. We use Solidrock premium stone and grout sealer. This is THE prefered impregnating sealer for protecting your stone, porous tile and grout without effecting slip resistance or altering the appearance or finish of your stone in any way. If your stone is shiny, it will be still. If it has a matte look- it still will. This is the latest in bonding technology and provides maximum protection against most spills, spots and stains.
If you're going to the trouble to properly clean your luxurious floors, don't resist this important last step. Years of foot traffic, mopping and even our powerful cleaning will wear off most, if not all of the original sealer (providing it was initially applied.) Oil and stains can get into porous tile and grout the very day after you have it cleaned. Have us apply premium sealer to your floor at the same time we clean it. You'll relax easier and your floors will stay beautiful longer!
The following pictures show how your floor should perform. If it does not do this, it is NOT properly sealed.
Proper Premium Sealing:
Call Lisa today at ph.: 303-530-0646 and schedule an appointment for luxury.