By Ken Strid, Owner of Cleancare of Boulder.
Why Not Hire a Cheap Carpet Cleaning Company? Pricing by reputable carpet cleaning companies is calculated by the size, degree of soiling and amount of stains. An experienced, true professional's expertise is not free, but he will perform the service you want in an exemplary and satisfactory way. Conversely, there are two ways a cheap company will do business with you.:
1) The company will offer a cheap price per room, no matter what the size or how dirty your carpet is. If he does not adjust his price to the job, then you can bet he will not adjust his procedures to your particular situation. You may have gone awhile without carpet cleaning and have deeply embedded soils that cannot be removed by a quick pass of a steam machine. But the cheap company has to speed through your home using little or no cleaning products so they can get to the next job or they won't make enough money to stay in business. Think of it like this: If they are charging you $75 to do 3 rooms in your house, they have to set up the job, clean your carpet and put away their equipment. If they take 1 hour to do all that, they have to make a profit, pay their employee, pay for their equipment, pay for gas, pay for cleaning chemicals (if they even use any), insurance (if they have any) and taxes (unless they work under the table and only accept cash). Can you tell me how they make any profit at all? No wonder they fly through your home so fast. Carpet cleaning is not as inexpensive to perform as some might think.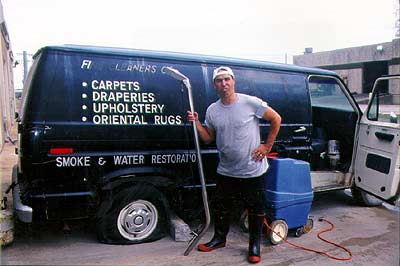 2) The other way cheap carpet cleaning companies operate is to initially offer a really cheap price like $25 per room. I'm looking at a Val Pak coupon right now with that exact deal from a company in Boulder, CO. It says they will clean for $25 per room or 5 rooms for $109. I know for a fact that this company NEVER cleans for this price. I have current clients that have come to me after being swindled by them (They have very few repeat customers!) . They are what is known as a Bait and Switch company. When you call them with the coupon price, they'll eagerly come to your home and write up an estimate. You'll tell them you want your family room, living room, master bedroom and three other bedrooms cleaned. In your head you have calculated that your 5 rooms at the coupon rate will cost $109. What a great deal, right? Your carpet cleaner then tells you that the $25 price is for portable machine cleaning only and he does not have one on his truck. But he'll clean with his truck mount machine for $50 per room. But your family room and master bedroom are counted as two rooms because of their size. So now you are up to $350.00 He then tells you that price of $50 per room is only for basic steam extraction. So no cleaning products are included. You have heavy soil so that will be an additional $35 per room. Now you're up to $595 on what you thought would be a $109.00 job. "Now, spot treatments will be an additional charge also, Ma'am." And on and on it goes. Usually these guys are also very pushy and rude. They don't care about you, they just want to sucker you into paying inflated prices.
More Problems Associated With Cheap Carpet Cleaning Companies:
1) They Leave Too Much Water in Your Carpet. By not properly taking the time to extract the moisture they put down and follow up their cleaning with drying fans, an improper amount of water is left in your home. This will possibly encourage the growth of mold or bacteria. By the time a homeowner realizes that there is too much water present, it may be too late to do anything about it. Mold remediation is very expensive and the risks to your health are even more dire.
2) They Have No Spot and Stain Expertise. Stains and chemical damage are common problems a professional technician has to deal with, but they require specialized cleaning products and application skills. An untrained technician may not even recognize the difference between chemical damage (like spilled bleach) and other soiling conditions. Sometimes the main reason people call a carpet cleaning company is too remove stains. A cheap company may not have technicians with enough expertise to do so.

What You Should Look For in a Quality, Professional Carpet Cleaner in Boulder, CO.:

Price is not the most important factor when looking for a professional carpet cleaner. Nothing is more important than a technician's experience level and educational background. At Cleancare of Boulder, we hold "Master Textile Cleaner" status from the IICRC. During IICRC certification, professionals are trained with addressing a range of soiling conditions, cleaning procedures and they learn how to handle modern truck mount equipment and state of the art cleaning products. Coupled with on-the-job experience, professionals with IICRC certification are prepared for any job situation they may face. Once you, the carpet cleaning client, experience the vast difference between a novice, cheap carpet cleaner and an experienced, IICRC certified professional, you will never want to go back to that cheap carpet cleaning company again.
For more information on what you should look for in a quality, professional carpet cleaner in Boulder, CO, call 303-530-0646 today!

You Get a FREE Room of Carpet Cleaning! Just fill out this form!

You Get a FREE Room of Carpet Cleaning! Just fill out this form!

You Get a FREE Room of Carpet Cleaning! Just fill out this form!